The rush darter is a "Houdini" among fish – it's part escape artist.
"A squirmy, wiggly fish" that easily jumps from your hand, the pinky-finger-long rush darter seems to move from one small puddle to another. So says Bankhead National Forest Wildlife Biologist Allison Cochran who, with her colleague John Moran, works with Alabama Power Environmental Affairs biologists Dylan Shaw and Jeff Baker in studying the little-known fish.
In 2019, Alabama Power joined United States Forest Service (USFS) biologists in uncovering the mysteries of the rush darter. Biologists have learned much about the life of this fish species, listed as "endangered" under the Endangered Species Act. Native to Alabama, the rush darter is found only in Jefferson, Etowah and Winston counties. The studies, among others, are being conducted as part of an in-kind service agreement between Alabama Power and the USFS associated with the Warrior Hydro License.
The rush darter is found in Clear Creek's tributaries, which flow into Smith Lake in Winston County, but it had never been found in the Bankhead National Forest. USFS biologists suspected the rush darter may live in streams flowing through the 180,000-acre Bankhead National Forest.
"We were happy with our efforts to find them in the Bankhead, one of the only places the rush darter is found in Winston County," Shaw said. "It's a very elusive species – it's so hard to find that it's very under-researched and we've been surveying ever since."
To reach the rush darter's habitat, the research team treks through public lands, deep within the forest. Beneath loblolly pines that tower above wetlands, the biologists have found the 2-inch-long, brownish-yellow fish living in a mere inch of water.
"The rush darter likes being a little fish in a small pond," Shaw said, with a chuckle. "We've found the fish living in tiny puddles on the floor of the forest."
Also found in small tributaries, the rush darter prefers shallow streams and instinctually avoids swift currents: "It seems to know to stay away from lakes and rivers, where it will become food for larger fish," Shaw noted. Indeed, the fish has only been found well upstream of Smith Lake.
The team does in-depth studies and surveys while looking for every place the rush darter may live in Bankhead National Forest, for species-management purposes.
"If a listed species is found on a certain land parcel, we manage it a little differently from a nonlisted species" because the Forest Service actively manages its lands, Cochran noted.
Their findings have become increasingly interesting.
"We've moved on from just trying to find the species to doing life-history studies," Shaw said. "We're trying to answer questions about this fish's life. That can include the distribution of the species, to how and when it reproduces and its behavior as it is reproducing, and the habitats it uses while breeding or not breeding."
Baker and Shaw monitor water quality and conduct tests for dissolved oxygen content and temperature. Though the company helps with other cooperative fish-tagging efforts around the state, they don't currently tag the rush darter. In future studies, this could be used to help understand where the fish travel during breeding and nonbreeding times.
"We are very sensitive to exactly where we found them," Shaw said. "We won't take them 10 feet from where we captured them to avoid any disruptions to breeding behavior."
Using hand nets to capture the tiny fish, they use a photarium – a small Plexiglas viewing tank with a ruler – to safely measure, identify and photograph them. Baker and Shaw record whether a fish is male or female, if it is pregnant and if the male displays breeding colors. When breeding, the male rush darter turns a darker, yellow-brown color, and the black dorsal dots on its fins darken.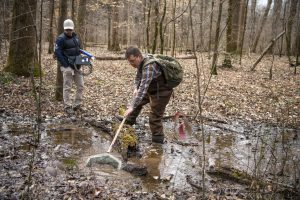 "They're not beautifully colored like all the orange, blue and red darters," Cochran said. "The rush darters are kind of drab and muddy-looking, which makes sense because they need to blend in with the leaf litter and vegetation of these wetlands. What's really cool is they jump – they'll surprise you. I've had a couple of them jump out of the photarium. That behavior is perhaps related to how they're moving into these real shallow environments, and perhaps even related to where they lay their eggs … they might even be able to jump up to go upstream."
During the rainy season, when creeks overflow, the fish ride the waves of the floodplain into little pools, where they reproduce. On a smaller scale, Baker noted, the rush darter is similar to a salmon making a spawning run.
"It's thought that they have a strong natal sense, returning to the stream where they were born, to do the same thing to contribute to the next generation," Baker said. "It's that strong natal sense that may be driving these fish to return to these areas."
The fish breeds during winter rains, but the team has found pregnant rush darters at the end of summer and even in November.
"This is not what they are supposed to be doing, according to us," Shaw said. "So, this fish is kind of breaking the mold."
Cochran is grateful for the partnership with Alabama Power. She said there is much more to learn about the rush darter's life span and how best to protect this endangered species.
"We still have more questions than answers," Cochran said. "We have a wonderful team, and it's really enhanced our capacity, our reach and how much work we're able to do. This has a huge, amazing impact. We're getting the needed information for use in managing resources statewide. We've got amazing biodiversity in Alabama and, through this study, we are raising awareness about the need for clean water quality, which is critical."
Click for more about how Alabama Power helps protect the environment and preserve the state.
————————————————————–
Celebrate nature at the Darter Festival on April 10
There's something for the entirbe family at the annual Darter Festival at Avondale Brewing Company on Sunday, April 10. Attend the festivities from noon to 5 p.m. and enjoy live music, food and drinks, kids' activities and more.
On-stage appearances will include the Lilly Hart Band, the Faith Apostolic Praise Choir and DJ Rodcore. Food will be provided by Eugene's Hot Chicken, Avondale Burger Company and Naughty But Nice Kettle Corn. This year marks the launch of Good People's Darter IPA.
Buy advance general admission tickets for $10 and advance VIP tickets – which include food and drinks from Luna and prime indoor seating – for $50. General admission tickets at the door are $15 and VIP tickets are $60. Proceeds support the Southern Environmental Center and its programs at Turkey Creek.