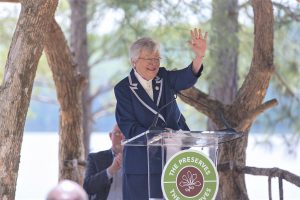 The Department of Conservation and Natural Resources recently held an event with Gov. Kay Ivey and Alabama Power to promote Alabama's outdoor amenities, including The Preserves.
The event featured Flat Rock Park on Lake Harris in Lineville, one of Alabama Power's 60 Preserves sites across the state. The Preserves are free recreational sites that provide hiking trails, fishing piers, boat launches and numerous amenities for Alabamians and visitors to enjoy.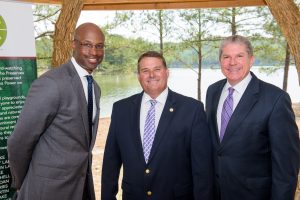 Commissioner Chris Blankenship emceed the festivities, during which Ivey, Alabama Power Executive Vice President of External Affairs Zeke Smith and Sen. Randy Price discussed the importance of recreation.
"The economic impact of boating, fishing and outdoor recreation on these lakes is tremendous for communities like Wedowee and Randolph County," Ivey said. "I appreciate the good job the Alabama Department of Conservation and Natural Resources does managing the fisheries of our state and working with great partners like Alabama Power and the Alabama legislature to provide quality boating access sites to get our people out on the water."
Ivey added, "I commend Commissioner Blankenship and his team as they work in communities like this one to build boat ramps that can host big state and regional tournaments around our state. The thousands of people that come to these events get to enjoy our well-managed fisheries. They also help support the surrounding communities."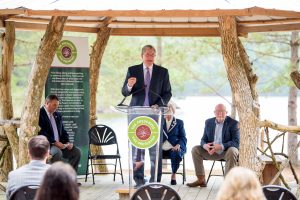 Blankenship discussed the importance of Alabama's public access areas to residents.
"We have such beautiful lakes and beautiful outdoors in Alabama," Blankenship said. "For people to be able to have access to that is so important. The Preserves you have here on Harris Reservoir, plus the ones on Lake Martin and other places around the state, really give people the opportunity to get out, to enjoy the water, enjoy the trees and the great outdoors, and it really means a lot for the quality of life for people, especially in these rural communities."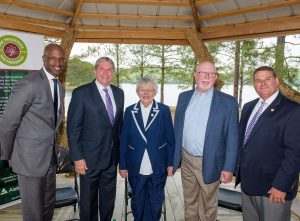 The event was held at a custom gazebo, "The Perch," constructed in the Black Belt Region using local Osage orange wood. Preserves sites tap into local nature by borrowing certain elements and using Alabama makers.
Smith thanked Ivey and Blankenship for their partnership to help keep Alabama lakes safe, accessible and among the most beautiful in the nation.
"We created The Preserves on protected lands to do just that – to preserve and build on the great natural resources that we have here in the state of Alabama," Smith said.
He provided highlights about Alabama's unique outdoor amenities and how they add to residents' standard of living and tourism opportunities.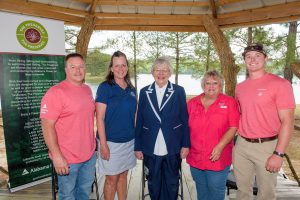 Amenities such as The Preserves sites and other outdoor recreation infrastructure can be used to enhance the state's attractiveness for high-skilled individuals and businesses, Smith added.
That is a key finding of Stanford University's Hoover Institution report for the Alabama Innovation Commission created by Ivey. The report stated that Alabama's natural endowment is well suited to developing a vibrant outdoor recreation economy. The full Innovate Alabama report and recommendations can be found here.