Spring has sprung and with the warmer weather comes more opportunity for recreation on Alabama's beautiful lakes. Boating is a popular activity for many lakegoers and with the increase in people out on the lakes, it's important to keep safety in mind.
National Safe Boating Week is May 21-27 and serves as a reminder to brush up on boating safety skills in preparation for boating season.
Having life jackets available on your vessel is one of the most important things you can do to ensure the safety of all passengers and is required by law in all 50 states. Boats in Alabama must have appropriately sized personal floatation devices (PFDs) in good, wearable condition for each person on board or being towed by the boat. Children under 8 years old must wear a Coast Guard-approved PFD at all times while aboard any boat.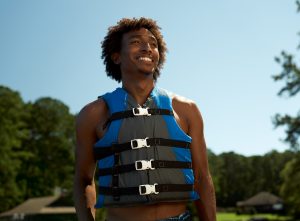 According to the U.S. Coast Guard's 2020 Boating Safety Statistic Report, drowning accounted for 75% of recreational boating fatalities and 86% of those who drowned were not wearing life jackets.
When looking for the best life jacket, keep in mind that there are many different types and sizes. There are five levels of life jackets and throwable floatation devices, so be sure to know which type is right for you based on intended activities or boating conditions.
While life jackets are important, there are many other steps you can take to stay safe while boating this season. Remember these tips from the National Safe Boating Council:
Take a boating safety course. Gain valuable knowledge and on-water experience in a boating safety course with many options for novice to experienced boaters.
Check equipment. Schedule a free vessel safety check with local U.S. Coast Guard Auxiliary or U.S. Power Squadrons to make sure all essential equipment is present, working and in good condition.
Make a float plan. Always let someone on shore know the trip itinerary, including operator and passenger information, boat type and registration, and communication equipment on board.
Wear a life jacket. Make sure everyone wears a life jacket – every time. A stowed life jacket is no use in an emergency.
Use an engine cut-off device – it's the law. An engine cut-off device, or engine cut-off switch, is a proven safety device to stop a boat engine if the operator falls overboard.
Watch the weather. Always check the forecast before departing on the water and continue to frequently check during the excursion.
Know what's going on around you at all times. Nearly a quarter of all reported boating accidents in 2019 were caused by operator inattention or improper lookout.
Know where you're going and travel at safe speeds. Be familiar with the area, local boating speed zones and always travel at a safe speed.
Never boat under the influence. A BUI is involved in one-third of all recreational boating fatalities. Always designate a sober skipper.
Keep in touch. Have more than one communication device that works when wet. VHF radios, emergency locator beacons, satellite phones and cellphones can all be important devices in an emergency.