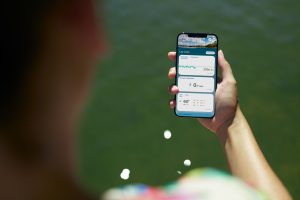 It's lake season! The time of year to get out and enjoy the great outdoors by visiting one of Alabama's extraordinary lakes. It's the perfect time to take in the beauty of the state's miles of gorgeous shoreline and acres of sparkling water.
Did you know that Alabama has more fresh water flowing through it than any other state in the continental U.S.?
Alabama Power operates 11 company lakes and 14 hydroelectric projects. Company lakes and dams impound more than 157,000 acres of water and provide more than 3,500 miles of shoreline for the use and enjoyment of the public. The company also maintains 68 recreation sites and about 21 miles of hiking and walking trails that are open to for the public to enjoy year-round.
Alabama Power works to serve our communities and make a positive and lasting impact on our beautiful state. The company offers the Shorelines website and Smart Lakes app to provide important information for lakegoers.
These handy tools will have you covered with all the information you need – from planning your day to updates while you're on the water.
Come enjoy the water that's helping to power a better Alabama. Visit apcshorelines.com or download the Smart Lakes app from the app store on your mobile device.
Follow us online and follow us outside!