There's really no secret to providing top-notch customer service, if you go by the rules.
Jacquetta Perry has a tried-and-true formula for keeping customers happy: "Be polite to the customer, and always put them first, no matter what."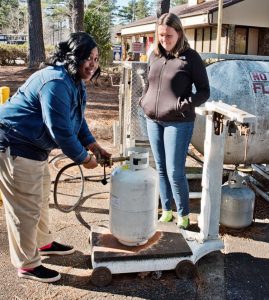 That dedication to putting customers first is why Perry recently won the Lake Martin Tourism Superstar award. She has ample opportunities while helping visitors at Wind Creek State Park on the shores of beautiful Lake Martin in east-central Alabama.
Perry's mission as the account clerk at Wind Creek's front office, Bldg. 52, is to give visitors first-rate attention. On the job six days a week, Perry is often one of the first people that visitors meet. Working 12 years at the park, she has interacted with thousands of people. In her present role, Perry makes arrangements for cabin stays and camping, and advises people about hiking options and other park activities.
"Every time I check somebody in at the window, they love to come back to me," Perry said, flashing a wide, welcoming smile that lights her face and uplifts visitors. "It's important to always be respectful and be nice – that keeps them wanting to come back to visit your park."
To help put guests at ease, Perry immediately uses their names during registration.
"My favorite thing is checking in campers and meeting new people," said Perry, who can offer recommendations on everything from boat rentals to prime biking routes, to scenic spots to visit around the lake.
Numbers slow to a trickle during winter – about 30 campers monthly – in January and February. During summer, the warm weather and opportunities for boating, swimming and other water sports attract more visitors, when up to 300 people may check in on Friday for a weekend stay.
Whatever the weather, Perry offers cheerful assistance to the folks who meander in and out of the park's business office.
Wind Creek State Park Superintendent Bruce Adams said, "Jacquetta is the most versatile, dedicated and conscientious employee I have ever had. She makes the job site fun for customers and coworkers. Jacquetta is liable to wear many hats during the workday – where there is a gap, she is there to fill it."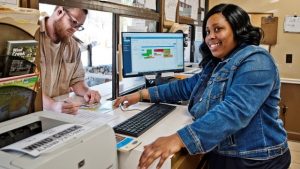 Enjoy Wind Creek State Park and lovely Lake Martin
With 586 campsites, Wind Creek State Park is one of the nation's largest state-operated campgrounds. The park welcomes thousands of visitors yearly, mostly from Alabama and the Southeast. Perry makes it a point to share the many fun activities offered at the park.
"I like for a lot of our customers to come down here and take a look, so they can see what their preference is and where their camper can or can't fit," Perry said. Camp sites include water, power and sewage connections.
For campers who want to spend a few nights in a tent, Perry recommends first getting a "looking pass" and a map of the campground. Visitors can ride through the grounds and write down the numbers of sites they like. They can then book their favored site online or come in the office and reserve it.
Tent camping is popular. Many Scout troops take advantage of the option in summer. The park also has 20 equine campsites where people can bring their horses.
Built for fun with friends and families, the park offers basic sites with water, power and sewer for $65 plus tax to camp Friday and Saturday nights, leaving Sunday. A site with lake views and amenities, for the weekend, costs $80 plus tax. There are seven bathhouses for tent campers and another bathhouse near the marina.
The park sees many repeat visitors.
"This is like a family park, so a lot of our customers come every year for family reunions, to see family they haven't seen in a while," Perry said. "A lot of their kids grew up here on Lake Martin, so they keep that tradition going."
Two park rangers enforce quiet hours and ride through the grounds, and Alabama state troopers also keep watch.
'Ambassador' loves the park and the people
Perry, too, has camped at Wind Creek, and she and her family have used one of the park's seven camping cabins. "I stayed here two years ago," she said. "It's nice. We sat by the fire and made s'mores."
She encourages everyone to come and enjoy the experience of relaxing at Lake Martin and being "one with nature."
"It's so peaceful at Wind Creek," Perry said. "It's something you need to experience for yourself. Once you've enjoyed a few days here, you'll want to come back every year."